What do you mean by good SEO?
SEO or Search Engine Optimization is the process of developing your website to suit the requirements of different search engines such as Google, Bing or Yahoo in order to appear in the first search results for keywords and key terms used by potential clients of different companies, projects and businesses. This, in turn, helps in registering your website with local directories in order to improve your restaurant's online presence.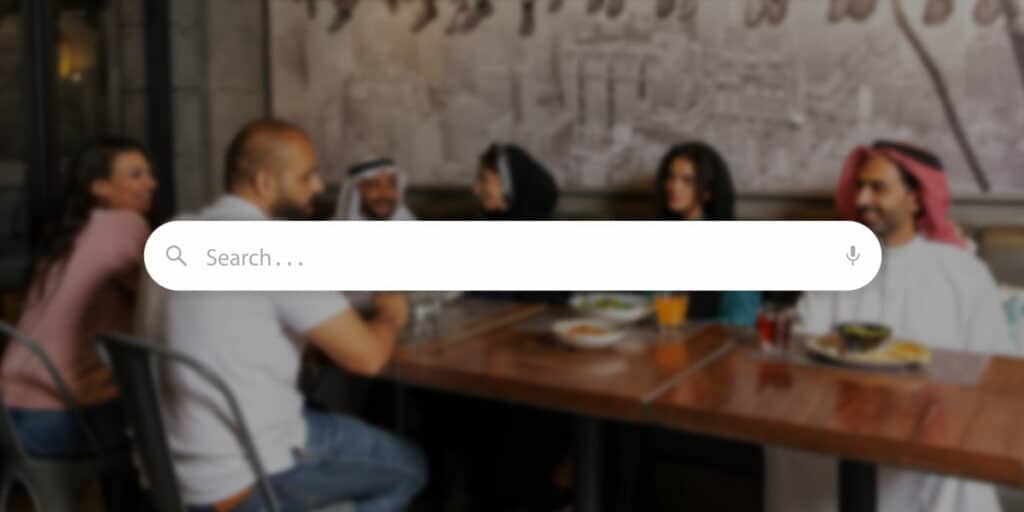 What is Local SEO for restaurants?
Local SEO uses keywords about your location to help people find your restaurant in the real world. In this regard, you should add your city and neighborhood name to your restaurant's website to get the best results. For instance, let's take a look at a local business website SEO, say you have a bakery in Riyadh, it is recommended that you include keywords like "Riyadh bakery" and "best bakery in Riyadh" to your website. You would also need to register your website with social media platforms and online directories to improve your local SEO results. 
SEO driven content makes your brand stand out, be more appealing to potential customers, and outperform your competitors.
Why is SEO essential to your restaurant's website?
The SEO for a restaurant's website is a major source of visits that contribute to increasing the profits of your business through free visits (Free Organic Traffic), as it has a significant impact on the number of visitors to the site through search engines, which includes searching for words, searching for images and videos, places, or news. Hence, SEO benefits your restaurant or cloud kitchen in many way including but not limited to:
Increasing traffic coming to your restaurant's website

Increasing online orders and reservations

Boosting your brand awareness and online exposure:

Increasing customer engagement

Improving your site's local SEO
How does SEO work for a restaurant's website?
One of the core skills that business owners should be aware of is how to get your brand found by searchers and internet users. This is where understanding how SEO works comes into play. 
On-page optimization: This is also known as On page SEO, which is one of the core pillars that you need to be familiar with to develop your website. Ensure that the content on your business' website is relevant and provides a great user experience. This can be done by targeting the right keywords within your content. This is considered one of the best ways to generate traffic to your website.





Off-page optimization: Another core component is the Off page SEO, where you enhance your website's rankings through activities outside of the website itself. This raises the question of what is backlinks in SEO example?
Backlinks, also known as inbound links, incoming links, or one way links, are links created from a page on one website to another. If someone links to your website site, then you have a backlink from them. 
This is important to your website because it signals to search engines that Website A finds your content helpful and informative to link to it within their own content, and ultimately improves your rankings on search engine results page. Read more: 10 Reasons Your Restaurant Needs a Branded Online Ordering System.
Login SEO principles and best practices for restaurants
Define your SEO & content strategies:
Defining your SEO strategy will significantly help you narrow your competition and accelerate driving quality traffic to your website. When doing so, start by defining the geographic area or location that you want to own, which is simply where your potential customers will come from. Then, use trusted keyword research tools to find out what keyword terms your target audience uses and include these phrases in your website's content. SEMrush and Keyword Planning are good examples of the best local SEO tools.
Have a strong presence on social media
Social media engagement can drive users and funnel them to your site. Social profiles can rank for search terms and one can utilize social media to drive more traffic to their website which ultimately leads to a better ranking.
Register your website with Google My Business (GMB)
Not only does Google My Business allow you to list your business location on Google Maps and local search results, but also display important information about your business, including working hours, contact details or a link to your website.
Incorporate reviews, feedback & testimonials
People tend to see reviews and rating scores before making their mind on visiting a certain restaurant. A higher rating leads to a higher click-through rate to your site and thus more organic traffic.
In today's digital age, people tend to be more dependent on their smartphones, therefore, business owners ought to give more focus to the mobile version of their websites. It is also important to track your progress and measure what's working and what's not in your SEO strategy to get insights and make data-driven decisions. Foodics Online is now available for restaurant owners to build their website to gain and maximize online visibility, which is necessary for a restaurant's long-term sustainability.