Covid-19  significantly impacted the food and beverage industry, and lead to a dramatic increase in the demand of food delivery. Despite the shutdown of  many cafés and restaurants, the food and beverage sector proposed a novel concept: cloud kitchens or ghost kitchens, to deal with the pandemic's losses as well as the lockdowns.
According to recent data, food delivery orders went up significantly during and after the pandemic. Therefore, restaurant owners and food entrepreneurs are turning to cloud kitchens as a profitable business solution to meet the growing demand for meal delivery.
A shared kitchen facility where numerous food enterprises make delivery-optimized menu items for delivery and take-out is referred to as a cloud-based kitchen. It also known as a ghost kitchen, shared kitchen, or virtual kitchen; allows for lower overhead than typical brick-and-mortar locations.
Under one roof, one restaurant may operate multiple brands or virtual eateries, or the kitchen may serve as an incubator, with various vendors sharing space.
Take a look at this report to get insights into how cloud kitchens are on the rise in the middle east.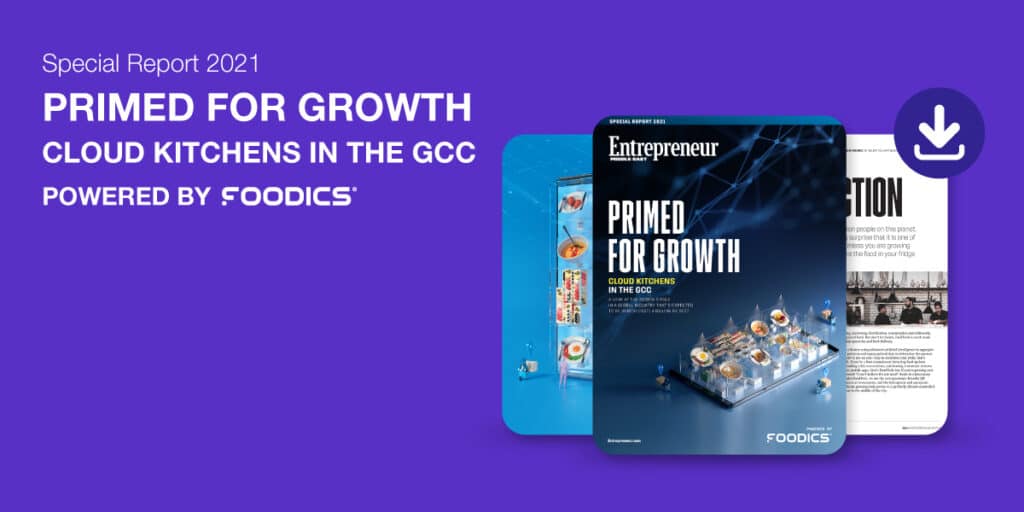 Everything you need to know about cloud kitchens
1. How does a cloud kitchen work?
The menu items are meant to be prepared quickly and easily while preserving food quality when delivered. In terms of technology, cloud kitchens are one-of-a-kind; and ought to be tech-enabled. They use food-delivery mobile apps like Talabat, Careem, and Deliveroo, that are easily accessible to everyone.  This allows cloud kitchen operators to understand exactly what type of food is popular, where it is popular, and when it is popular.

For example, if shawarma appears to be in high demand in the afternoon near universities, they will adjust and optimize their operations accordingly. This also applies on why embracing seasonal menus is what your restaurant needs.
Dedicated cloud kitchens can alleviate some of the challenges that traditional restaurants encounter by prepping multiple brands and tailoring each one according to consumer demand.

It is worth noting that they don't require heavy investments to begin and thus, have better expansion opportunities.
| | | |
| --- | --- | --- |
| Independent Cloud Kitchen | Multi-brand cloud kitchen | The hybrid cloud kitchen |
| Single brand | Multi-brand | Single brand |
| Single kitchen | Single kitchen | Single kitchen |
| No storefront | No storefront | With a storefront |
2. How to set up a cloud kitchen?
For a traditional brick-and-mortar restaurant, location is key. However, in the case of cloud kitchens, this isn't always the case. To attract clients, you don't need to spend a lot of money on cash-paying leases in a pricey or busy location.
Alternatively, all that is required is that your restaurant be located within a few kilometers of your target audience.

Virtual kitchens run entirely from the backend, saving you a lot of money on the front end. However, having the proper restaurant equipment is critical to the long-term success of cloud kitchens. As a result, a major investment should go into purchasing the right kitchen equipment.
Choosing the right staff is at the heart of any business in the F&B industry. However, unlike traditional restaurants, minimal staff is required in a virtual kitchen. 
Setting up online ordering is one of the most important factors. There are two options for cloud kitchens, either partnering up with food delivery aggregators or having your app or website. Thanks to Foodics Online, you can now do the latter with a few clicks.

You can always settle on a smart restaurant point of sale system to manage this whole process and make it a lot easier on you and your staff. Read more about 10 reasons your restaurant needs a branded online ordering system.

Attractive and proper packaging is another aspect that you take into consideration, along with emphasizing your brand logo. Packaging is not only important to keep food safe but also to appeal for your customers.

An effective marketing strategy is a great approach to spread the word about your cloud kitchen. Such a strategy should include building a strong online presence via your website, Google my business listing, and social media, as well as making use of emotional marketing. 
Benefits of running a cloud kitchen
Low front-end cost

Access to user data and real-time adaptability

Opportunity to experiment

Flexibility in location and cloud kitchen menu

Better convenience
Considerations for setting up a cloud kitchen; choosing the right technology
Since cloud kitchens are all about food delivery, then a key requirement has to do with managing the food delivery process. In other words, it must adopt a restaurant management point of sale system for the best experience and operational efficiency, let be online presence, processing payments, or food delivery applications. i
Real-time example: One of the biggest players in the cloud kitchen space in the GCC area; KR & CO - Kreative Restaurants
"We saw that consumer behavior is shifting towards delivery, towards convenience; we knew that the easiest way to reach customers is through delivery. 

The whole covid thing accelerated the delivery market by 5 to 10 year at least, everyone adopted delivery,  so delivery became the new habit for people, which is more comfortable and convenient for them. 

Cloud kitchens do make money, play on the concept of the food offered in your cloud kitchen and it will get you profit."