Today, more than ever, it is of utmost importance to build an effective loyalty program in light of the unprecedented competitiveness in the restaurant industry. With a loyalty program, guests can get rewards whenever they visit or spend more at your restaurant. Therefore, Customer loyalty programs are a great way to enhance customer retention, generate positive word-of-mouth marketing, and increase check size. 
In this article, we will discuss the impact of loyalty programs and loyal customers, and then we will go through 6 effective loyalty program ideas for restaurants.
The Importance of Returning Customers
Retaining customers is fundamental to maximizing profitability. As the Pareto Principle suggests, around 20% of your customers, who are typically loyal, account for 80% of your total revenue. 

But how do loyalty programs increase sales?


Loyal customers are more likely to make frequent purchases and have higher average transaction value. Moreover, retaining customers is more cost-effective than acquiring new ones. In fact, it can cost 5 to 25 times more to acquire a new customer compared to driving repeat business, according to Harvard Business Review.
The Impact of Loyalty Programs
A restaurant loyalty program boosts customer retention by gamifying purchases and incentivizing repeat visits. When you turn dollars into points, you shift your customers' perception from spending money to leveling up in a game, making it easier for them to spend. 
Furthermore, a restaurant loyalty program can increase revenue by between 25 and 95% by increasing customer loyalty by 5%, according to that same study by Harvard Business Review.
How?
Upselling and cross-selling play a major role in increasing order size. For instance, when you offer customers bonus points for ordering combos, you will sell more drinks and sides.
Now that we've laid out the importance of loyalty programs and loyal customers, let's go through some of the best loyalty program ideas for restaurants that your customers will love and engage with!
Customer Loyalty Programs Ideas
Points-based loyalty program
Best suited for fast-casual and casual dining restaurants.
The points-based program is a highly popular loyalty rewards program for restaurants; it is easy to implement in your restaurant and has proven successful, hence its popularity. In this program, customers earn points for every 4 Riyals spent for example, and they can redeem these points for discounts, free items, or other promotions. 
Consider offering bonus points for special occasions or promotions to make it more engaging. For example, customers could earn double points for their purchases during Ramadan, or the Christmas season. Keep your points-based loyalty program clear and simple, and ensure the reward's value doesn't cut into your profit.
Frequency-Based Loyalty Program
Best suited for Cafes, coffee shops, and fast-food restaurants.
This type of loyalty program aims at developing a loyal customer base by rewarding customers based on how often they visit your restaurant. For instance, after a certain number of visits, customers could receive a free appetizer, dessert, or a discount on their next meal. This encourages repeat visits and creates a sense of accomplishment as customers work towards unlocking rewards.
Subscription-Based Rewards Program
Best suited for coffee shops and restaurants that offer delivery or take-out services.
A subscription-based rewards program offers subscribers discounts, perks, and rewards. 
For instance, you can offer your members a yearly or monthly subscription plan where they get your products for a discounted price. Moreover, members get rewarded for reaching certain membership milestones. For example, you could have bronze, silver, gold, and platinum levels, with each level offering progressively better rewards, such as exclusive discounts, priority reservations, or personalized offers. This encourages customers to strive for higher tiers, increasing their loyalty to your restaurant.
Furthermore, this program helps you attract new customers, such as employees who often look for subscription plans to help them go through the day easier.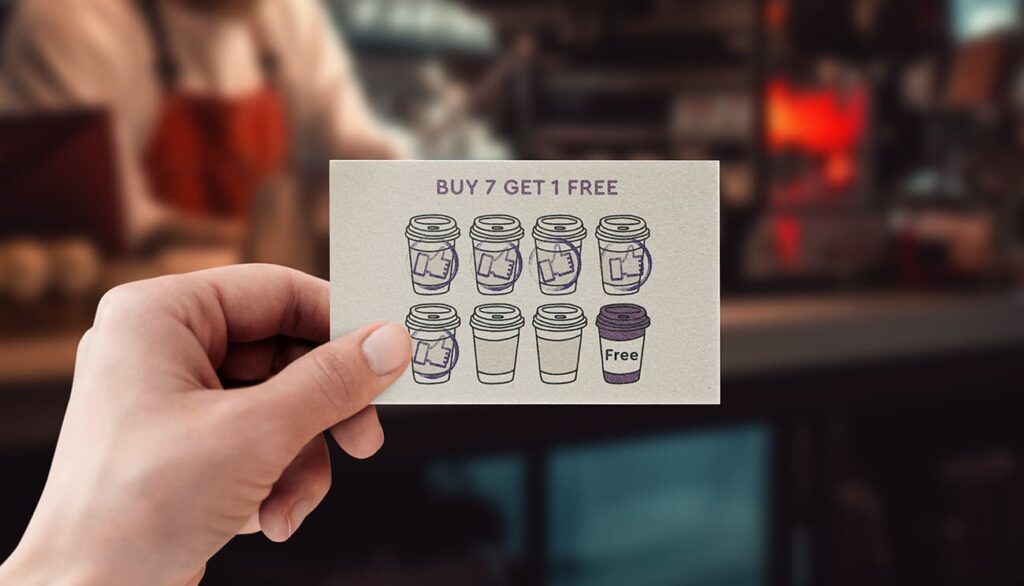 Best suited for restaurants that have signature menu items that customers love. (Ex: Pizza or Taco restaurants).
This program is two-fold. You can reward your customers by offering an item for free after they purchase it a certain number of times. Or you can offer a specific item as a reward instead of credit.  
For example, if a customer buys 9 soft drinks, he gets the 10th for free, or you can offer that same drink for every 50 points collected at your restaurant. 
Whichever method you choose, make sure not to limit your offers to one or two items. Instead, make it as broad as possible so you don't alienate customers with other preferences.  
Word-of-mouth marketing can be powerful. I know that because I always ask for a friend's suggestion before visiting a new restaurant. 
A refer-a-friend program can help you leverage that marketing strategy by encouraging customers to refer friends and family to your restaurant for rewards, such as discounts or free items. This will promote loyalty among existing customers and bring in new customers through referrals.
For example, you can add a "Who Sent You" section within your app with an option to tag someone who will directly receive points and rewards once tagged. Then, you can encourage new customers to use that feature by granting them some points too!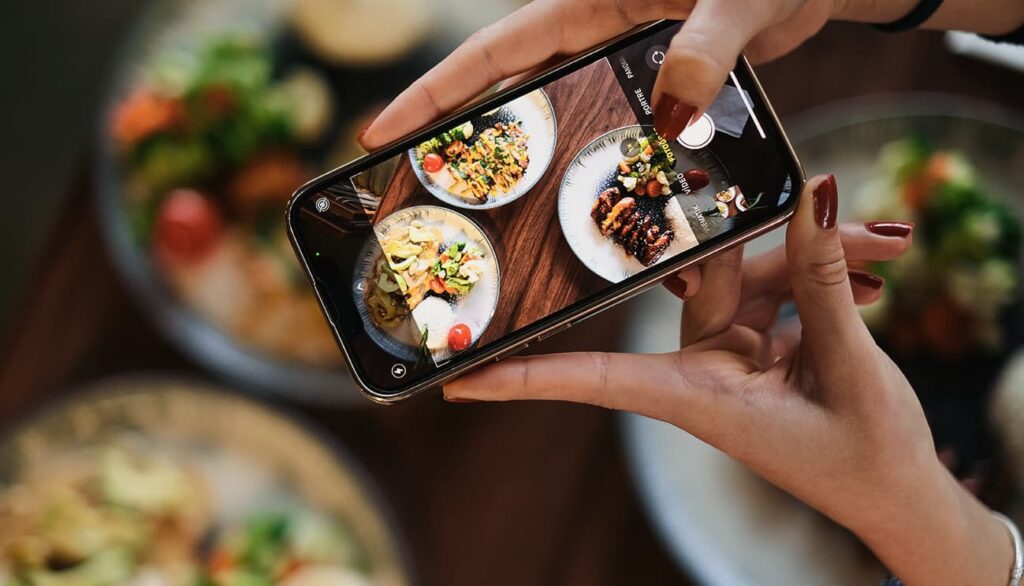 Social media is the most influential marketing tool ever created, and incorporating it into your loyalty program can boost loyalty and promote your brand. 
Encourage customers to engage with your restaurant on social media by liking, sharing, tagging your posts, or by leaving reviews, and offer rewards for such engagement, such as points, discounts, or free items.
This program can help you reach a wider audience by building brand awareness and improving visibility. Moreover, it helps to create an engaging online community that brings your loyal customers together.
Good loyalty marketing programs can really help a restaurant retain customers, spend more and feel good about it! By implementing and regularly assessing the effectiveness of a loyalty program, restaurants can stand out from competitors and build a loyal customer base that will keep coming back for more delicious meals.