During Ramadan, the two most important activities that determine the flow of the day are Iftar and Suhoor. Therefore, restaurant owners should take into consideration different Ramadan menu ideas as food delivery applications as well as restaurants are expected to witness a spike in orders and a rise in diners during the holy month of Ramadan.
Ramadan Menu Ideas
1.Online Food Delivery

Create a special Ramadan menu for food delivery as the majority of restaurants will be closed during the day. Online food delivery will remain an important channel for restaurants for fasting and non-fasting individuals.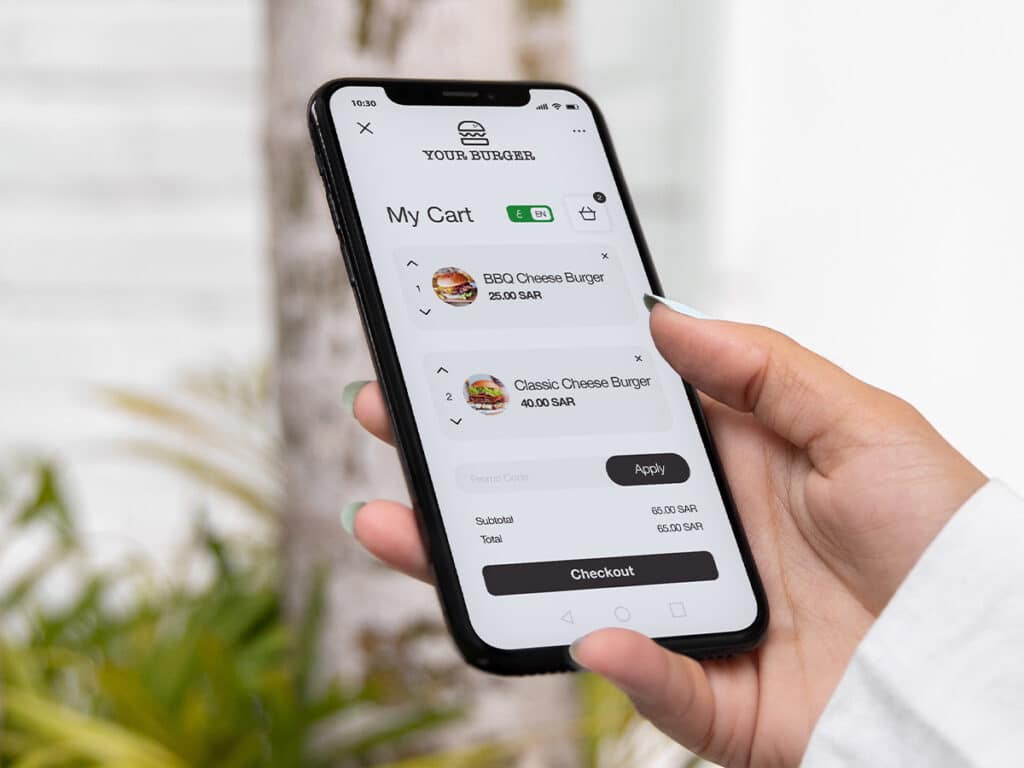 2. Digital Menus For Restaurants
No one wants to wait for their turn to get the menu and order, especially during Ramadan. With everything being digital, business owners should equip their restaurants with digital menus. Digital menus are great for reducing perceived wait time and are easily updated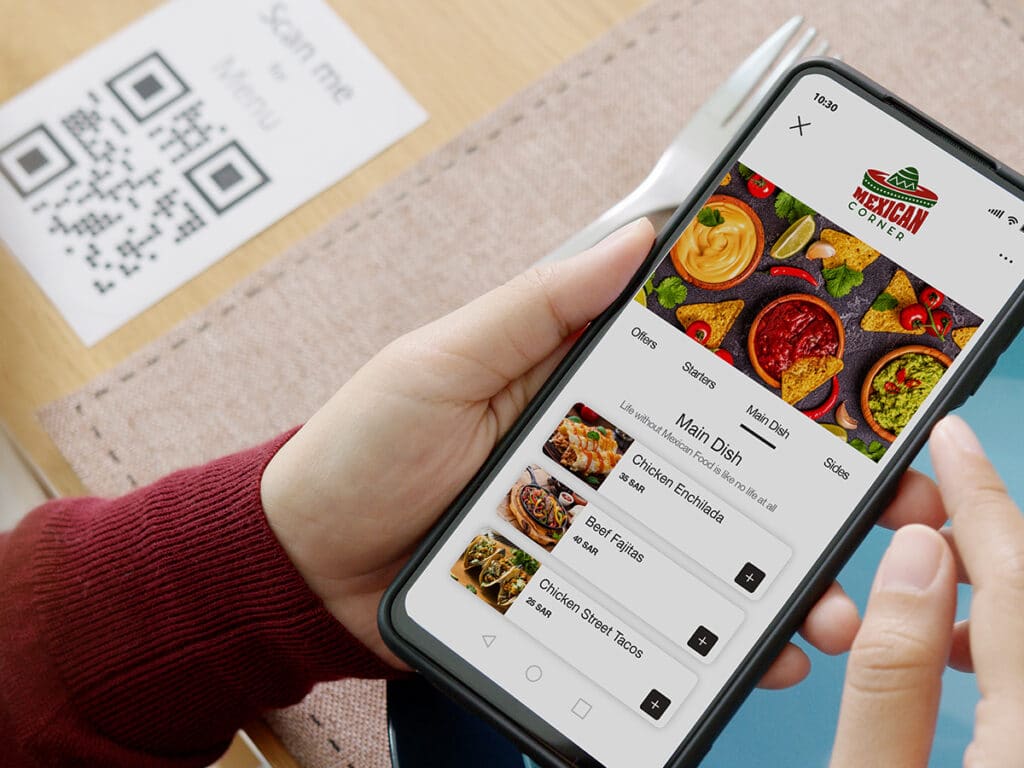 There are different dishes that get served only during Ramadan. Hence, restaurant owners should consider adding at least some popular Ramdan seasonal food to their menus such as Katayef, Samosa, or Shorba.
On the other hand, restaurant owners should also keep in mind that some food might not be the best food for Ramadan, such as salty food which makes people thirsty afterwards. Digital menus are great for tweaking your menu during special occasions like Ramadan.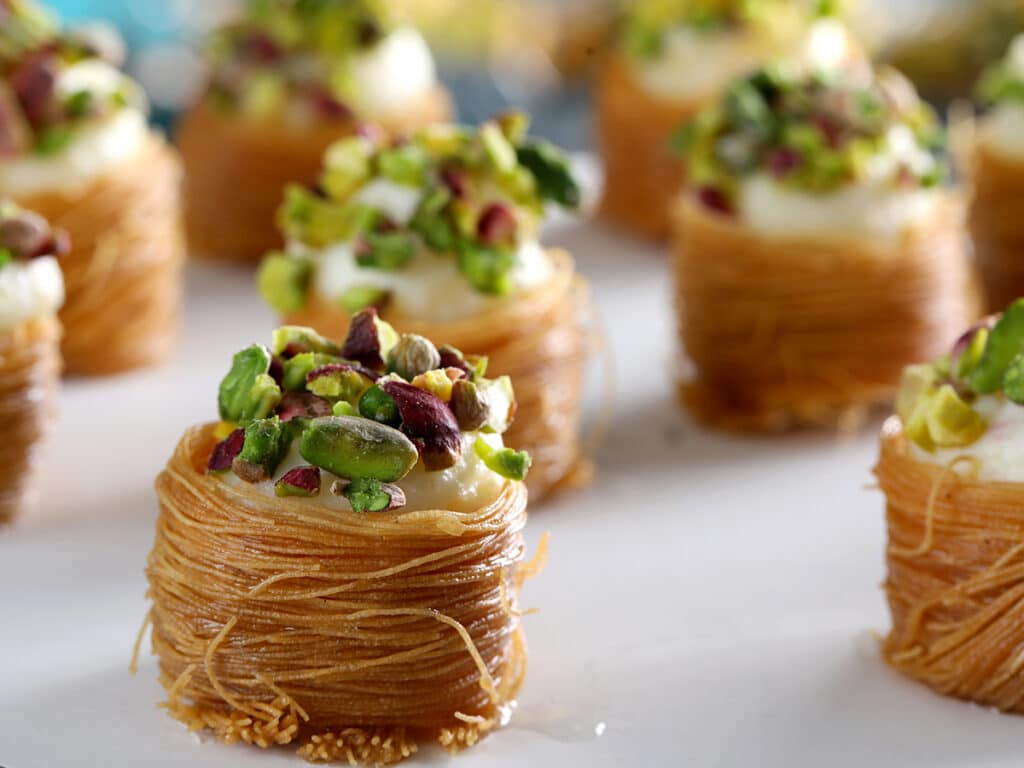 4. Ramadan offers, bundles and packages
Ramadan is a month of community and people prefer to spend it with their family, friends, and beloved ones. Therefore, creating special campaigns, like promotions, discounts and bundles, during Ramadan is a great way to attract customers.

a) Family packs
Offer family packs for gatherings so that people enjoy a hearty dinner with their families.

b) Iftar and Suhoor bundles
People who order Iftar food are most likely fasting, and hence they might consider ordering food for Suhoor. In addition, offering bundled meals, smoothes your kitchen's operations, because the staff already has an idea of what items people will order. Preparation will also be simpler, and meals get served faster. Thus, offering iftar and suhoor bundles would delight a great number of customers.

c) Thoughtful surprises
Wish your customers a good day by adding free dessert with a note with their order, or you might want to send them a voucher for their next order. People appreciate kindness and generosity, especially during this month.
Make more money from your menu

Your menu gives the first impression about your restaurant. It's one of the most effective marketing tools for your brand. And the best way to design an effective menu is through menu engineering. Not only can menu engineering help you increase your restaurant's profit but also inform your design and layout decisions.
Foodics and Menu Engineering

Foodics smart analytics and insights allow you to design your menu for maximum profitability by measuring revenue and popularity. Foodics reports give a full scale analysis of your menu based on each menu item's performance, which helps you keep track of your menu's profitability, sales, popularity, profit and much more. With this data, you will be able to adapt your inventory strategy, menu, and promotions to increase overall efficiency.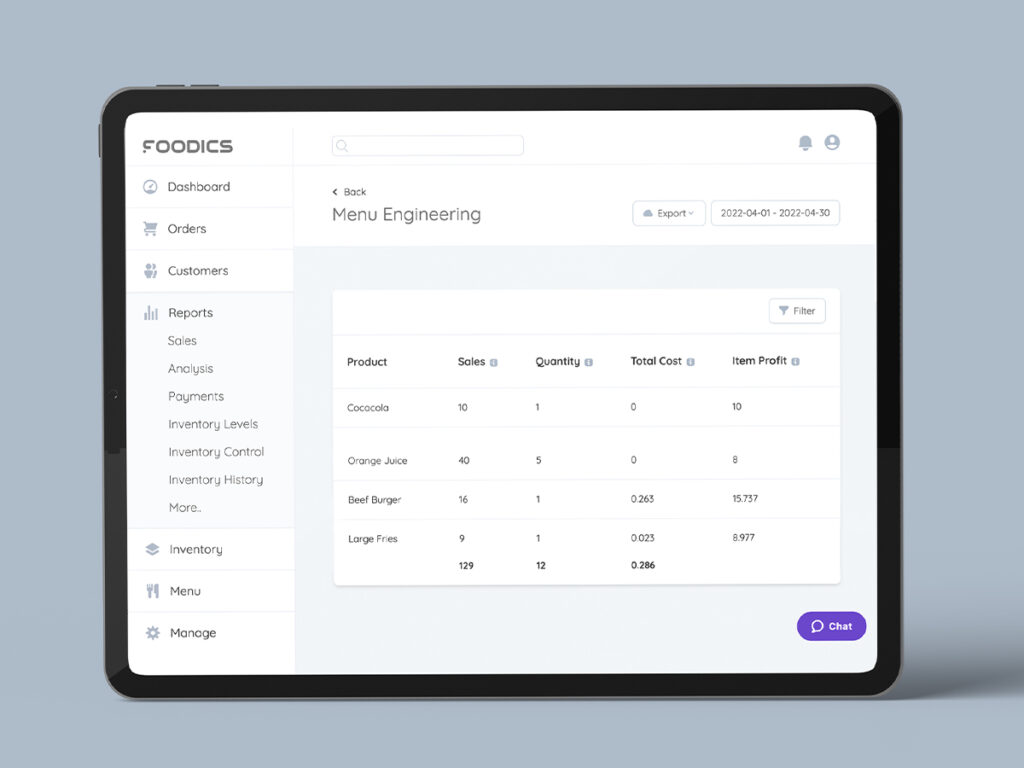 Impact of menu engineering on restaurant's performance

Top selling items:
Foodics reports give valuable insights about top-performing items, which in turn helps you eliminate items that are not yielding strong profit margins.

Profitable items:
You want to sell menu items that have a high margin of profitability. You might want to consider this while strategically arranging the items on the menu and in your marketing efforts.

Popular and profitable items:
Another factor Foodics reports help you analyze is the popularity and profitability of an item. Sales of menu items are analyzed to put menu items in four categories:
Popular and profitable

Popular but not profitable

Not popular but profitable

Neither popular nor profitable
With a detailed view of your menu items' profitability and popularity, you can identify which items contribute to your success and which items are holding your restaurant back. This allows you to operate at the lowest capacity while still providing popular menu items and driving revenue as well as minimizing your inventory ordering and having better control over costs.
For instance, knowing how much you earn by tracking your costs and profit margins per item will help you stay up-to-date on the stock levels and order from your suppliers the right amount at the right time. 
Final thought
Keep in mind that Ramadan is a month of giving the less fortunate. Hence, creating a strategy where you encourage customers to donate and give back to the community is a great way to maintain Ramadan's true essence. Also, don't forget to get ready for Eid Al Fitr. Think of festive food and desserts and adapt your menu accordingly.