Ramadan 2023 is almost here! At this time of year, Muslims gather every evening with family and friends to pray and share a hearty meal after a long day of fasting.  This holy month is not just about abstinence and devotion but also about sharing, wholesome moments, and togetherness. It is worth noting that festive seasons mark a significant shift in consumers' spending patterns. In Ramadan, Muslims generally spend more on gifts, clothes, and most importantly food. Therefore, it is an important season for restaurants to amplify their marketing efforts to attract new and existing customers.
We've put together a Ramadan restaurant marketing plan that helps you drive sales, improve brand perception, and increase customer loyalty. At the end of the day, consumers tend to choose businesses that share their values and actively work to stay true to them. 
Before we start, check out 8 Ramadan Preparation Tips for Restaurants to help you plan ahead for those busy shifts.
Without further ado, let's get cracking!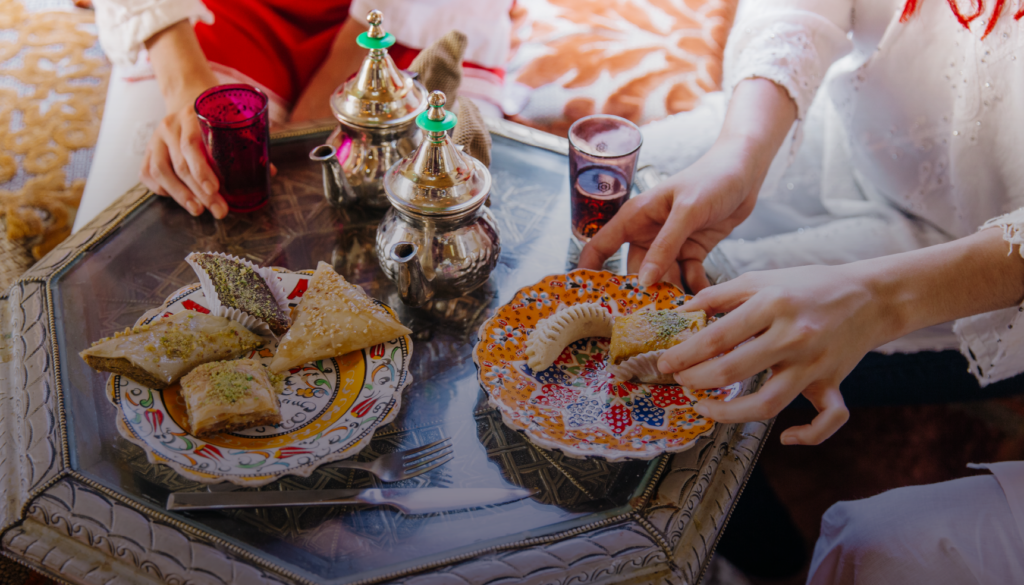 Make charitable donations
Use your advertisements to display and encourage compassion. Include cheaper deals and offer donations for the homeless and poor with every order. For example, pledge to donate 1$ with every meal purchase to a charity. This initiative will show your customers that you care and that you acknowledge the significance of this holy month and will make you feel better about it all.
Create the right ambiance
The customer's experience at your restaurant is threefold: food, service and ambiance. Take advantage of the season's magical aura and transform your restaurant into a noteworthy Ramadan destination. Use decorations, music, and even scents that go with the theme. Make sure you create different moods and ambiances for Iftar and Suhoor to encourage customers to book their tables for both meals. Make it loud and festive for Iftar and keep it low-key and quiet for Suhoor.
Use iconic Ramadan symbols in your marketing materials
Help channel the spirit of Ramadan in your marketing materials by using this month's iconic symbols. Incorporating these symbols helps Muslims build a connection with your business which can drive interest in your product. 
Lanterns symbolize the late waking hours of Muslims during the fasting season. 

Dates are the iconic break-fast food for Muslims and are considered an essential part of Ramadan.

The Crescent moon marks the beginning of each month including Ramadan.
Irresistible Menu And Ramadan Offers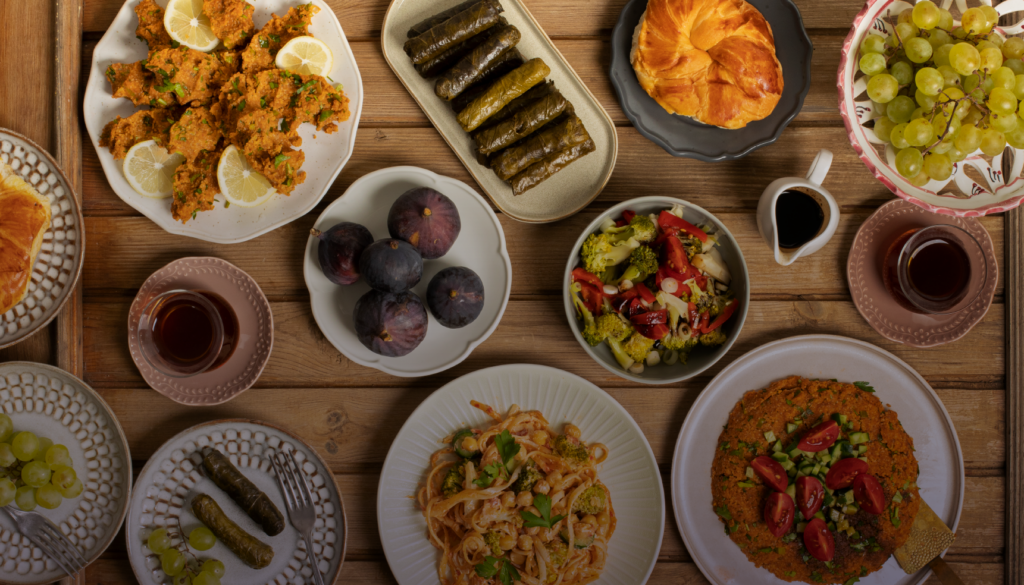 Plan an exciting Ramadan menu
When planning a three-course meal, especially in Ramadan, a few factors must be considered: Theme, flavors, nutritional value, and taste transitions from one course to the next.
Whether you're going with a set menu or a buffet, communicate the diversity of your dishes with your customers. Some may crave heavy and calorie-dense foods while others may opt for healthier and well-balanced meals. Let your customers know that there are options for everyone, even the vegans among them. Moreover, ensure that you add a middle-eastern touch to your dishes. Even if you serve burgers, you can find a creative way to make your dishes Ramadan-ish. This is the season to celebrate traditions and culture so tickling that nostalgia can bring in more customers. 
Offer collective deals
Ramadan is known to be a time for gatherings. Muslims plan to enjoy Iftar with family and friends, so you have to cater to these gatherings. This is an excellent time for those giant combos and discounts which will make ordering quicker and more practical for them. Post these deals on all your platforms because combos are very popular during Ramadan.
If you need help with Ramadan restaurant offers, specials, and discounts, Foodics All-in-one POS Solution can help you out with this through its menu engineering feature.
Digital Marketing For Restaurants
Get social media influencers talking about you!
In the age of social media, no one can turn a blind eye to the immense influence of bloggers and "Instagramers". Getting featured in well-known digital magazines, food blogs, and foodies' Instagram accounts can do wonders for your restaurant. Invite famous food bloggers to your restaurant and let them taste your best dishes. As a result, you will boost your brand recognition and new diners will consider trying out your restaurant for the next Iftar.
Create a unique hashtag for Ramadan
People love to share photos of their meals online so take advantage of user-generated content that has proven to be a potent tool in the digital age. Create a Ramadan-related hashtag and make it visible to customers when they visit your restaurant. Make sure you share their posts to encourage other visitors to post about your restaurant and use your hashtag.
Post irresistible food photos
A restaurant marketing plan must include aesthetically pleasing visuals. Stand out from the crowd by taking high-quality and creative shots of your dishes. include close-ups and boomerang shots to highlight the juiciness and freshness of your ingredients and to make them more appealing to the eye. People tend to share delicious food photos with friends and make dining plans under the influence of these mesmerizing photos.
In conclusion, setting up a good restaurant marketing plan for Ramadan is crucial for boosting sales, increasing customer loyalty, and promoting your restaurant.
Ramadan Kareem!